Dec 24th, Christmas Eve Candlelight Service, with Rev. Dr. Steven Koski
Posted: Fri, Dec 24, 2021
Dec 24th: Christmas Eve Candlelight Service, with Rev. Dr. Steven Koski. This is the story of the birth of Jesus, as told in the Book of Luke. In those days, Caesar Augustus issued a decree that a census should be taken of the entire Roman world. This was the first census that took place while [...]
A Part of the Series:
Other Articles in:
Dec 24th: Christmas Eve Candlelight Service, with Rev. Dr. Steven Koski.
This is the story of the birth of Jesus, as told in the Book of Luke. In those days, Caesar Augustus issued a decree that a census should be taken of the entire Roman world. This was the first census that took place while Corinius was governor of Syria, and everyone went to their own town to be registered. So Joseph also went from the town of Nazareth and Galilee to Judea to Bethlehem, the town of David because he belonged to the house in the line of David. Joseph went there to register with Mary, who has pledged to be married to him and who is expecting a child.
While they were there. The time came for the baby to be born, and she gave birth to her firstborn son. She wrapped him in cloths and placed him in a manger, an animal's feeding trough because there was no room available for them in the Inn, and there were shepherds living out in the fields nearby, keeping watch over their flocks at night, and an angel of the Lord appeared to the shepherds, and the glory of the Lord showed around them, and the shepherds were terrified.
But the angel said to them, do not be afraid.
I bring you good news of great joy for all people today in the town of David, a savior has been born to you, Christ the Lord.
This will be a sign to you. You will find a baby wrapped in cloths lying in a manger, and suddenly a great company of the heavenly host appeared with the angel praising God and saying Glory to God in the highest heaven, and peace on Earth and goodwill to all. When the Angels had left them and gone into heaven, the shepherd said to one another, let's go quickly to Bethlehem, see this thing that has happened, which the Lord has told us about. So the shepherds hurried off and they found Mary and Joseph, and the baby who was lying in the Manger.
When they had seen him, they shared all that had been told them about this child.
Everyone was amazed at what the shepherd said to them. Mary treasured all that was happening and everything being said and pondered it in her heart. The shepherds returned to their fields, glorifying and praising God for all the things they had heard and seen, which were just as they had been told.
Elizabeth Gilbert shares this story of being stuck on a crosstown bus in New York City on Christmas Eve during rush hour when people were eager to get home. It was cold and stormy and traffic was barely moving. The bus was filled with cold, tired people who were deeply irritated with one another, and with the world itself, there was no Christmas joy to be found. Two men shouted at each other because one of the men was wearing his mask under his chin. A pregnant woman got on the bus.
Nobody offered her a seat. How ironic, there was no room on that bus for a pregnant woman to rest on Christmas Eve. Rage was in the air. No mercy could be found here. But as the bus driver approached 7th Avenue, the driver got on the intercom and said, "look folks, I know it's Christmas Eve, and you just want to get home."
"I know you've had a rough day and probably like most of us, a rough year and you're frustrated and weary and tired of it all. I get it. I can't do anything about the weather or the traffic or COVID. But here's what I can do", the bus driver said, "okay, as each one of you gets off the bus, I will reach out my hand to you as you walk by. Drop your troubles and your anger and your fears into the palm of my hand."
"Okay? Don't take your problems home to your loved ones or your neighbors or your pets tonight. Just leave them with me. Make room in your heart for goodness. Leave the problems and the fears with me."
"This bus goes right by the Hudson River. And when I drive by there later, I'm going to open the window, throw your troubles in the water. And that'll be my Christmas gift to each of you."
It was as if a spell lifted. Everyone on the bus burst out laughing faces gleamed with surprised delight. People who had been pretending for the past hour not to notice each other's existence were suddenly grinning at each other like, Is this guy serious? He was serious at the next stop, just as he promised, this bus driver reached out his hand, palm up and waited. One by one.
All of the exiting passengers placed their hand above his hand and mimed the gesture of dropping something into his paw. A few laughed and some actually teared up, but everyone did it, and the driver repeated the same lovely ritual at the next stop and the next stop and the next stop, all the way to the river.
A bus full of rage and weariness and despair with no mercy to be found receive the unexpected gift of a little peace and goodwill.
We're living in such challenging days when everything seems to have sharp edges and is covered in darkness. We long for light but don't know where to find it.
This is the night we celebrate. Light. An unfathomable goodness has entered the world. In the birth of Jesus. We make room in our hearts for that light to be born anew and to burn bright within us.
This is the night we're reminded the child born in a manger grew to be a man who revealed the heart of God, who showed us what love looks like a love that cannot be defeated.
And he said, Light for all the world. This is the night to push back the darkness, to refuse, to allow the darkness to steal the light from us. This is the night to see the light in one another. To encourage one another, not to lose our light. Do you know what I love about the story of this bus driver?
It reminds us that anyone, anyone can be a reflection of divine light at any moment. This bus driver was not some powerful politician. He wasn't the pastor of a megachurch. He wasn't on TV or someone with a million Instagram followers. He was a bus driver, one of society's most invisible workers.
He couldn't fix the world. But he allowed his light to shine and change the world for the passengers on a bus one Christmas Eve. Who knows? Maybe that's how the world has changed. One light at a time.
A little bit of light can dispel a whole lot of darkness. The days ahead will continue to be challenging. No doubt the darkness will continue to try to steal our light.
Remember, there is a light that shines in the darkness and the darkness cannot overcome it. Blessed are you, my friends who choose to be bearers of light in these unbearable times.
---
Related Ministries:
A Spacious Christmas, and the Advent Season
Be reminded of and celebrate the light of this Christmas Season by joining us on Christmas Eve. A Christmas Prayer We celebrate the birthday of Jesus on Christmas. Jesus gives…
Details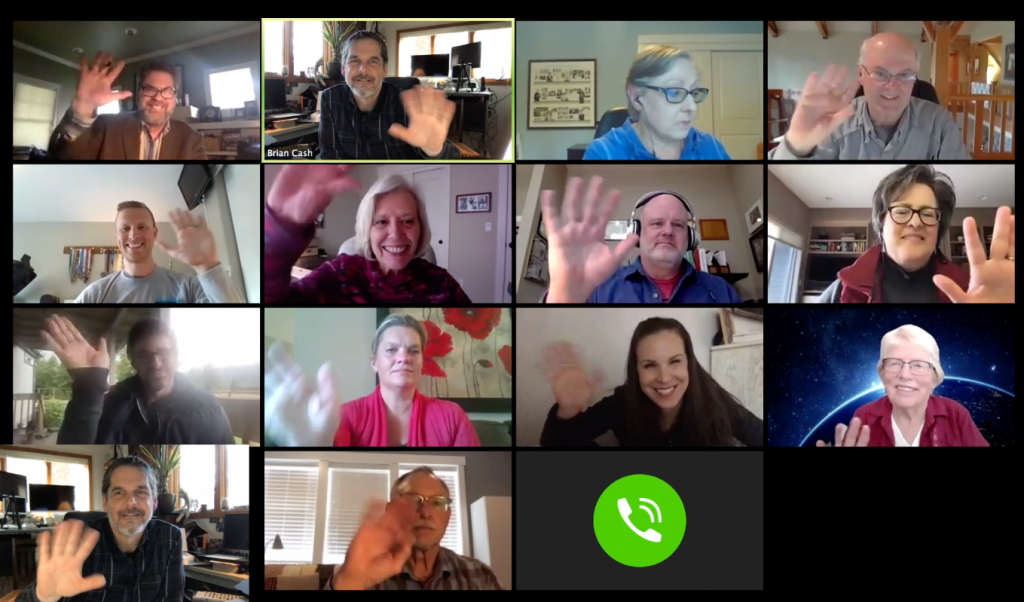 Online and Television Services, A Spacious Christianity
The special beauty about a virtual service? You can sing as loud as you want without care or worry. God loves a joyous worship - anywhere you are, at home…
Details